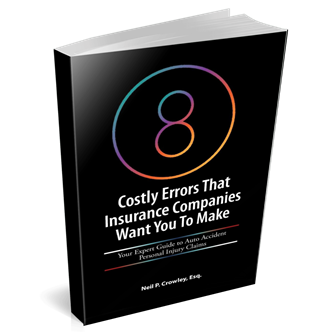 Where do you turn after a serious car accident? The first call most people make after getting an ambulance or filing a police report is to their insurance company. And that's exactly what the insurance company wants you to do. Before getting advice from an attorney who is looking out for you, they want you to call their adjuster so that they can protect their bottom line. When you read our free book 8 Costly Errors That Insurance Companies Want You to Make, you will get all the information you need to get the most out of your auto accident claim.
We Give You the Basics—and Much More
In the first part of our book, we go over the basics of what to do after you've been in a crash. We explain what to do right after the crash to protect your future claim for damages, offer tricks of the insurance industry trade, reveal how you can level the playing field with insurers, and discuss when you should consider settling a claim. Then, we introduce the following typical mistakes people make after an accident:
Not collecting information at the accident scene
Not recording your injuries early
Failing to follow up with medical care
Interacting with the other party's insurance company
Not following your lawyer's advice
Not being truthful regarding your past claims or injuries
Not being truthful regarding your activities
Having the wrong insurance coverage
Not only do we explain these common mistakes, but we tell you how they can hurt your claim and what you can do to avoid them.
Request Your Free Copy Today
Even if you are not suffering through the aftermath of a car accident right now, this book is an invaluable resource for anyone who drives a car in Massachusetts. When you fill out the form on this page, we will send you a complimentary copy right away. If you have any questions in the meantime, we are always here to take your call!